What Are Spokesperson Videos?
We turn your existing content into short, conversational videos. You can use these videos to grow your Youtube channel and publish on your website!
Did you know that YouTube is the 2nd largest search engine? By using our SEO-optimized, professional videos, you can take advantage of an entirely new traffic channel!
On top of that, by adding video to your website, you'll increase your engagement, dwell time, and your rankings!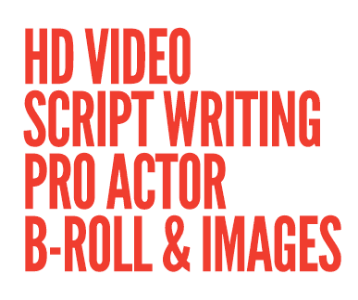 Full Feature HD Video
What You Get:
Your Content Transformed to A Video Script
Professional Spokesperson / Talking Head
Professional Images, Video B-Roll & Title Cards
We include your CTA at the end of the video
HD quality video export
How Video Spokesperson Works
Just purchase Video and give us a few details, including a link to your original content that you'd like to use. Upload your logo and send us a link to any additional footage or images you'd like to see in your video.
We'll edit your content into an engaging video script, then we film, edit, and produce a high quality video. Video length is dependent on the amount of content you send us, but will not exceed 5 minutes.
We'll deliver a white label, HD quality export you can use to upload to youtube, your website, or any video channel. We also deliver you an SEO optimized video title, tags and description to use in your upload.