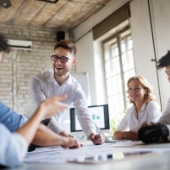 Viva Insights is an app within Microsoft's Viva suite. It provides individuals, managers, and business leaders with the necessary insights to develop better work habits and improve their work environment. In this blog, we will explore how Viva Insights works and its many features.
How does Viva Insights work?
Viva Insights shows users personalized recommendations that can help them do their best work. By analyzing Microsoft 365 data, such as emails, calls, meetings, and chats, it can generate insights for building better work habits that help people become more productive and improve their well-being. The tool can gather and provide the following information:
Personal insights help individual users understand how they work and what they need to do to improve their performance.
Teamwork habits let you determine work habits that may cause burnout, such as having too many meetings, too little focus time, and frequent after-hours work. This way, team members can learn how their habits affect the rest of the team and how they can help their colleagues balance productivity and well-being.
Organization trends provide managers and business leaders visibility into how the work culture is impacting employee productivity and well-being. They can use the recommendations to make necessary improvements.
Advanced insights can help company leaders address vital issues about organizational resiliency, such as how work affects their people and the business.
What are the other features of Viva Insights?
Aside from providing important insights, Viva Insights also has a few handy features that can help employees improve their work life. These include:
Stay connected: This feature allows users to interact better with their colleagues. It also suggests one-on-one meetings with managers or colleagues, sends meeting reminders, and reminds users to RSVP when needed.
Protect time: Viva Insights users can schedule focus time right on the app. Do Not Disturb functions are automatically enabled to prevent distractions.
Send praise: Users can acknowledge their team's and colleagues' hard work by sending them praise via private chat or a Teams channel.
Reflect: This feature encourages workers to focus on themselves. Users can create reminders to see how they are feeling and access their reflection history to determine how their feelings have evolved. Users can share this data with their managers and other company leaders.
Headspace: Users can access the mindfulness app Headspace within Microsoft Viva to help them start their day grounded, relax before a big presentation, or focus before starting a project. They can also use it to close out their day with a mindfulness exercise during their virtual commute.
Take a break: This feature encourages users to take several deep breaths for one minute.
Microsoft To-Do: This task management application helps users better manage their tasks and commitments.
To make sure you reap all the benefits of Viva Insights, give us a call. We'll be more than ready to help you set it up and tailor it to your business's needs.
Published with permission from TechAdvisory.org.
Source.