Network Security

Cybercrime & its sophistication are growing exponentially. By leaving your network unprotected, they can easily infiltrate and jeopardize your computer systems, and halt business operations resulting in costly downtime and irreparable data loss. Visionary IT provides solutions to meet the security challenges facing most small & mid-market businesses today such as, Ransomware, Phishing scams, & meeting security compliance standards such as HIPAA & CMMC.
Network Security services from Visionary IT include:
Ransomware Protection - AI (artificial intelligence) based security that identifies & stops ransomware in it's tracks at the network edge & end points.
Dark Web Monitoring - monitor & detect any leaked personal or business credentials.
Data & E-mail Encryption - Easily and quickly encrypt laptops, mobile devices and E-mails - no matter which e-mail provider you use.
Server Security - Advanced security and real time monitoring for cloud and on-premise servers.
Our team of experts proactively monitor and manage your IT to safeguard your business from cyber attacks. We help visionaries like you realize your full potential, through expert IT services and support based on your specific needs.
Protect your business's network by partnering with Visionary IT today!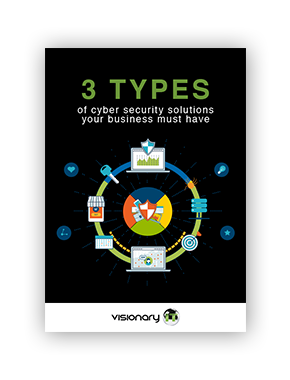 Fill In The Form Below To Download a Free eBook!
Fill In The Form Below To Download a Free eBook!