Cease Windows XP

I want
Visionary

to move my business forward!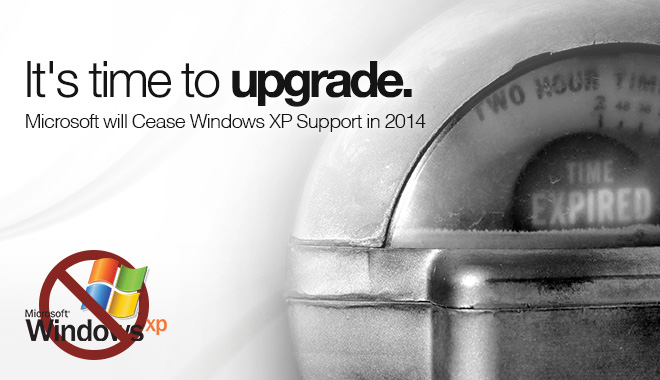 Microsoft to Cease Windows XP Support in 2014
Are you still running Window XP in your business or medical practice? If so, it's time to start planning now. In April 2014 Microsoft & hardware vendors will stop releasing drivers, security patches and all support for the operating system. Failure to upgrade by April may result in failed compliance audits, fines & security breaches. New hardware & software will stop being supported my most manufacturers. Simply put the cost & risk of doing nothing is far higher than the cost of taking action before April 2014. We understand that changing your OS will entail some expense, including new licenses, hardware, and some training. Fortunately, these things are designed to help you operate more efficiently and increase your productivity in the long run. But such change will take time, and if you are interested in starting to plan for an upgrade now, we'll be happy to sit down with you and develop an upgrade process that meets your specific needs.
Visionary IT specializes in providing clients with IT support & guidance for every situation. Whether you're a business owner tired of fixing IT problems yourself or an IT manager, Visionary IT is the source for all of your internet and computing needs. They have always been there for us with prompt, exceptional service and we are confident that they will be there when you need, too! We can't express our appreciation for the Visionary IT team more clearly than that. Thank you Visionary IT.
Diane Terribile
---
If you must manage compliance for your company such as HIPAA, be advised that a computer running XP on your network will become a compliance violation. While there are some lines of business applications that have not been upgraded to work with Windows 7, most have — and there are alternative approaches. Also, your business needs the security and protection that only a current, up-to-date operating system can provide.
Contact Visionary IT Services today, request a FREE Action Plan for your company to ensure your business is protected tomorrow.
Contact us at 602-754-0101